You can buy Coca-Cola in glass bottles, plastic bottles or cans. Which is better for the environment? Googling shows some content from Coke – sadly they don't mention the environment as a deciding factor….
Coca-Cola drinks come in many shapes and sizes. But which do you prefer? We did a mini bottle vs can poll at Coca-Cola Towers and this is what we found…
Source: Bottle vs Can: How Do You Prefer Your Coca-Cola? | Coca-Cola GB
My brief look at some of the information out there shows that this is a complex area:
but Coca-Cola does produce one hell of a lot of plastic bottles – over 100 billion according to some reports.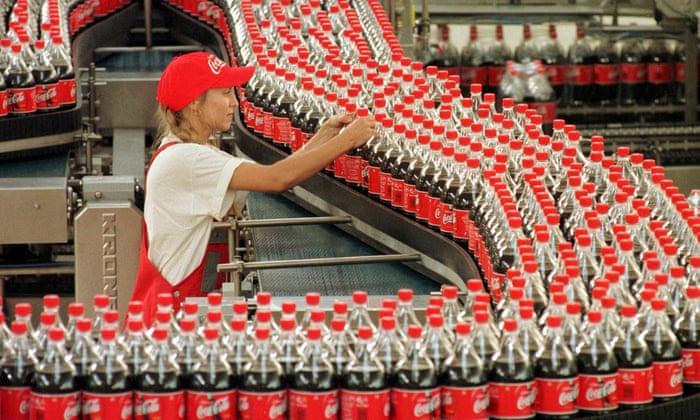 Surely it has a responsibility to do better?
Here's some information from them at least – What's the carbon footprint of a Coca‑Cola? Be a bit careful, as the page shows the difference between a 330ml aluminum can, a 330ml glass bottle, and a 2 litre plastic bottle – not exactly good comparisons.
(Quick quiz – before going to look at the details, see if you can guess which of the following images was used to illustrate that page?)

Images from Coca-cola site or Greenpeace
The research was done for Coca-Cola by The Carbon Trust, so I went looking for the source. There doesn't seem to be much on their website, but there is a case study (pdf) which shows that the data was from 2009.
Coca-Cola did announce 'an ambitious goal' in this article dated September 2016 to reduce the carbon footprint of "the drink in your hand" by 25 percent by 2020. But the company doesn't seem that confident about its figures – "those methodologies are evolving. We are working to simplify our data collection and measuring systems, and plan to have our data verified by an independent third-party for 2016". I couldn't find a further update.
I have to say, searching for information on this topic is a bit frustrating. It seemed like a simple question, and yet so far I can't find any simple answers!
Join in via the comments if you can help!